Complacency in GERD an Imminent Disaster
Abstract
Gastroesophageal reflux disease is one of the most common gastrointestinal disorders which is mainly characterized by problems with esophageal peristalsis, which is responsible for propelling food from the esophagus into the stomach or dysfunctional or weaker lower esophageal sphincter, which prevents the reflux to stomach contents.Typical symptoms involve heartburn, regurgitation of food, a sore taste in the mouth, and sometimes atypical symptoms like chest pain, signs of dental erosion and even breathlessness at night. There is also a trend of testing for helicobacter pylori in GERD patients which is absolutely not recommended at all as there is no evidence that eradication therapy will ease the symptoms.Instead, it has contributed to widespread antimicrobial resistance with physicians using them, which is otherwise a futile exercise. There is no need to try different proton pump inhibitors for a long time when there is no improvement in symptoms.The physicians in general practice should rather be generous in referring such patients on time to gastroenterology experts, as the treatment needs to be multidisciplinary and one should not be silent on sinister signs and symptoms if they are present. Endoscopy is already a safer option to screen such patients, which will suffice for the reassurance of the patients.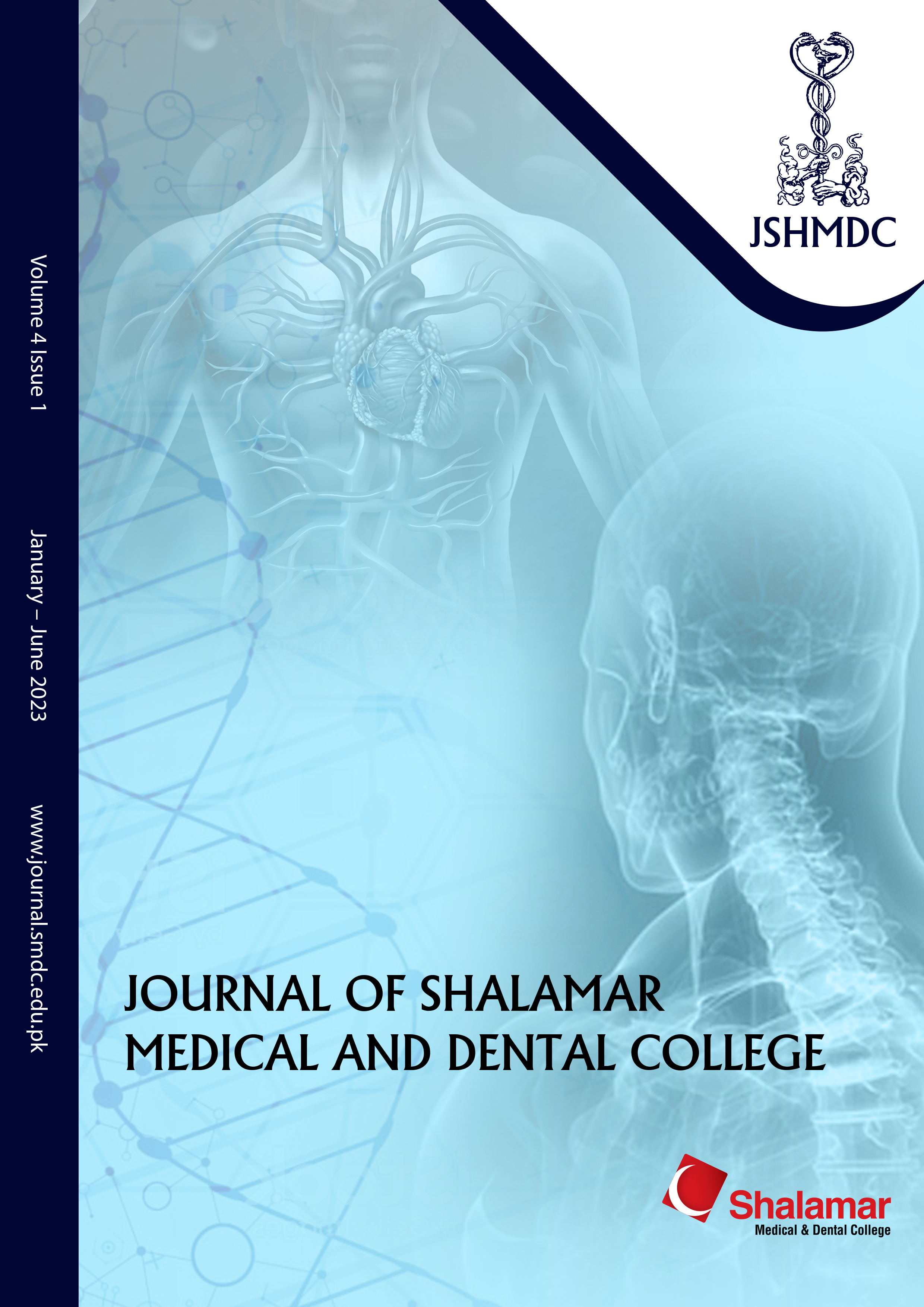 Downloads
How to Cite
1.
Jibran Umar Ayub Khan, Zahir Shah A, Qaisar A. Complacency in GERD an Imminent Disaster. J Shalamar Med Dent Coll [Internet]. 2023 Jun. 27 [cited 2023 Dec. 8];4(1):1-3. Available from: https://journal.smdc.edu.pk/index.php/journal/article/view/159
License
Copyright (c) 2023 Jibran Umar Ayub Khan, Azhar Zahir Shah , Ayesha Qaisar
This work is licensed under a Creative Commons Attribution-NonCommercial 4.0 International License.
Copyright are reserved for author under
Creative Commons Attribution-NonCommercial 4.0.
This work is licensed under a Creative Commons Attribution-NonCommercial 4.0 International License.
     You are free to:
Share — copy and redistribute the material in any medium or format
Adapt — remix, transform, and build upon the material
The licensor cannot revoke these freedoms as long as you follow the license terms.
      Under the following terms:
No additional restrictions — You may not apply legal terms or technological measures that legally restrict others from doing anything the license permits.