Spontaneous Abortions and Gestational Diabetes Mellitus- A Study from Pakistan
Keywords:
Spontaneous abortios, Maternal hyperglycemia, Gestational Diabetes Mellitus
Abstract
Background: Gestational diabetes mellitus leads to adverse pregnancy outcomes.
Objectives: The objective of the study was to explore the relationship of spontaneous abortions with gestational diabetes mellitus in pregnant women from rural and urban Lahore.
Methods: This cross-sectional study was conducted at University of Health Sciences, Lahore in 2019. Among 60 pregnant women sampled, 30 had gestational diabetes mellitus (GDM) and 30 were normal pregnant controls. Pregnant women were sampled from different hospitals of rural and urban areas of Lahore. Independent sample t-test was applied for analyzing the data. Chi- square test was used to analyze the categorical variables. Association of fasting blood glucose (FBG) and abortions was checked. Odd ratio and relative risk were calculated.
Results: Mean fasting blood sugar levels were significantly higher in GDM group (105 mg/dL) as compared to non-GDM group (80.50 mg/dL) at p<0.001. The proportions of the women with increased number of abortions had significantly higher blood glucose levels (OR 5.091, 95% CI, RR 1.27).
Conclusions: Gestational diabetes mellitus is associated with an increased risk of spontaneous abortions.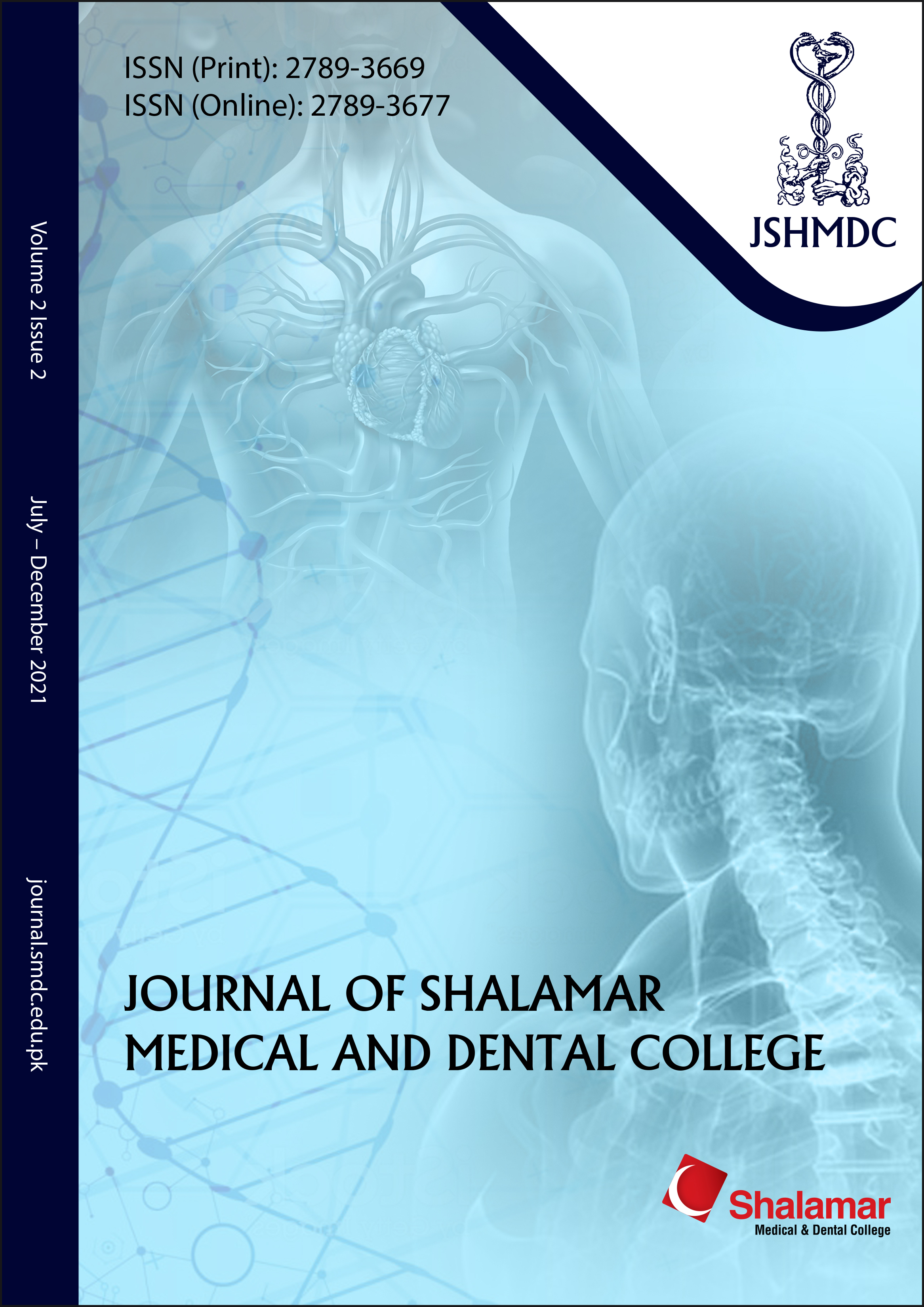 Downloads
Section
Original Articles
License
Copyright (c) 2021 Journal of Shalamar Medical & Dental College - JSHMDC
This work is licensed under a Creative Commons Attribution-NonCommercial 4.0 International License.